What You Get with the LM experience
At the LM Experience, we go global.
My team is able to convert your in-person event into a virtual experience that allows you to gain visibility not only locally but on a global scale.
Our events have been seen in Bali and China, among other countries.
Your guests get to experience your event from the comfort and convenience of their homes as if they were there in person. They will feel engaged and excited to be a part of your event. We get high engagement at our events by adding entertainment, networking, and virtual photo booths.
"I love bringing the client's vision to life and creating an over-the-top experience even virtually. I love seeing the satisfaction of their event going well."

LaKisha Mosley
Event Manager: Lila Andrews
Event Planning At It's Best
Event Planning Package
Event Planning Sessions (2 per month)
Email & Scheduled Phone Support
Timeline + Event Agenda Creation
Build Out of Virtual Venue
Virtual Run of the Show
Day of Event Execution
Add-ons:
Event Strategy Consultation Call
Simple Booth: Virtual Photo Booth
Ready to discuss details?
What Our Clients Are Saying
LaKisha is a life saver!!!!
Working with her for WERK University's Digital WERK-A-Thon allowed me to free up so much time and focus on marketing the event while she handled much of the logistics. She provided me with tons of unique ideas, offered her support in bringing those ideas to life and facilitated practically all of the daily sessions. She worked with me from start to finish as I hosted my first virtual conference ever.
I literally could not have pulled off a successful experience without her!
Koereyelle 
Amy, The Key Clubhouse
All of us at The Key Clubhouse of South Florida are grateful to The LM Experience for its expert production of our first online fundraising event, Dreams Do Come True, which raised more than $56,000 for our nonprofit organization, which helps people with serious mental illness reintegrate into the community.
We were incredibly nervous about the technical challenges of creating all the pieces of a virtual event. None of us had ever done anything like this.  LaKisha patiently guided us through the process. We learned how to create and upload our own videos, including music videos, to the StreamYard platform, and now to intersperse the videos with live-streaming remarks by our presenters. She hosted a run-through for us before the event so that we all felt comfortable with our roles. Our group consisted of people live-streaming and submitting videos from multiple locations, and it all came together beautifully for the final event! We got many, many compliments on our YouTube channel and Facebook page. It was actually a lot of fun doing the event because most of it had already been organized in StreamYard.
We all loved working with LaKisha and if we ever do another virtual event, we will be calling on her!
Jennie Shields, Families in Nature Development Director
LaKisha Mosley, and the entire LM Experience team, lifted our virtual event to a level we never dreamed possible. With knowledge and understanding, they walked us through the process of planning and executing a virtual gala, which we had never even considered before this year. From designing the event landing page, choosing a platform, and then producing the actual LIVE streamed event, the LM Experience was there every step of the way! I am so glad that we chose to work with LaKisha and her team and I would gladly choose the LM Experience for my next virtual event!
Monica
LaKisha was very knowledgeable and had so many amazing ideas. Although new technology can at times be overwhelming, Lakisha made using a new platform simple and manageable. I look forward to continuing to soar using Airmeet because of the guidance received by Lakisha. I highly recommend Lakisha to anyone that asks for event planning services. All of her efforts are greatly appreciated.
Tiara
I just wanted to take a moment to officially say THANK YOU! You and your team were a great help overall and ensuring that the event was able to run as smoothly as possible. I appreciate you and look forward to working with you in the future. I'll be hiring you for the events I have planned in the near future. 
Putting on an event at 9 months pregnant would've been IMPOSSIBLE without you and Victoria helping coordinate the minute details. I've hosted a number of events throughout the course of my 5 yrs in business and this was the least stressful event I've had since. I will absolutely be working with your team again. 
Charles Johns, MACC Development
My organization, MACC Development, recently had the need to host a virtual event. We sought help because at this point had never hosted an event like this before. Then I met Lakisha and the LM Experience. Lakisha and her team were amazing. She was very patient with me and worked hard to make me feel at ease with doing something new to me and MACC Development. The customer service was simply amazing. Lakisha and her team were with me for every step of my event and its many sessions. Because of Lakisha, we now will continue to provide a virtual service to our clients. 
LaKisha and her team provided the most amazing customer service. I never felt panic because I knew she was in the background making sure everything went smoothly. I would work with her again anytime!
Thank you so much for all your hard work.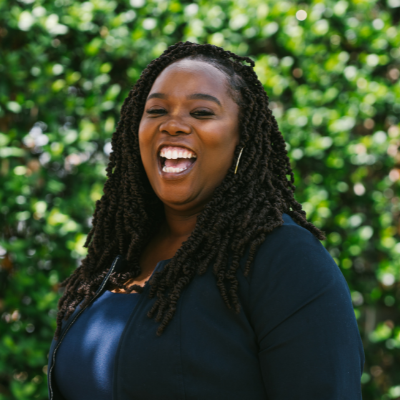 Houston resident, Louisiana native, and all-around powerhouse LaKisha Mosley is the Owner, Event Producer, and Digital Event Strategist of The LM Experience, host of The Convo with Kisha podcast, and the chief blogger at LaKishaMosley.com where she writes about business, family, faith, and more.
LaKisha Mosley has eight years of event planning and managing experience and is well known for producing events including the Werk, Pray, Slay Conference, and other summits across the country, as well as national conventions, regional conferences, and weddings. Her firm has been featured in Voyage Houston and GlambitiousIAm.
In 2020, The LM Experience pivoted to a digital firm, helping businesses re-create their in-person events to virtual experiences. LaKisha has produced over 20 virtual events, including The LM Experience's My Mind is My Business Mental Wellness Summit and The Digital Werk-A-Thon.
Mosley's business blog launched in Fall 2018, in which she covers a wide range of business and personal topics, delving into all things entrepreneurial life. Passionate about mompreneurs and women in business, she has hosted guest posts by a myriad of influential businesswomen and spotlights entrepreneurs changing the game within their industries across the nation.
In Summer 2019, Mosley launched The Convo with Kisha and has featured businesspeople such as marketers, health gurus, and online vendors. The podcast is available on Anchor, Spotify, Google Podcasts, Apple Podcasts, Stitcher, and more.
Mother of two adult children, Kaniecia and Kaylon, she is a member of the Alpha Kappa Alpha Sorority and the Mu Alpha Mu Christian Sorority. Besides spending time with her children, LaKisha is an avid reader, loves true crime shows, and enjoys a good podcast.